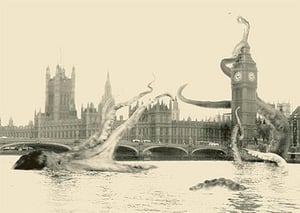 £

225.00 - On Sale
I think about this theme a lot "gaia" is planet earth.
Prints that look like film posters or stills from a B-movie. Inspired by Gaia theory, as expounded by a British Professor James Lovelock lends itself to my love for sci-fi disaster movies and faux–science. Once I'd put these elements together the work just grew like a monster.

Gaia Octopus at Westminster is a still from a film that was never made....
Another influence is that one of the great British Si-Fi films the Quatermass experiment was filmed around this bridge in 1952.

prints like this are fuelled by my interest in current affairs, not so much the agenda that gets into the mass media like police beating up students and cuts to the NHS, but the stuff that gets filtered out...
"Are we a danger to the earth or is the earth a danger to us?"
LIMITED EDITION of 160 prints
Hand printed silk screen print on hand made paper.
Size: 100 x 70 cm.
All prints are sent out "Signed For", within 7 working days.